PAST GUEST PERFORMERS
Laura Heimes, soprano
Chris Pedro Trakas, baritone
Donald Berman, piano
Jeff Carney, bass
Frank Cassara, percussion
Mark Feldman, violin
Gregory Fulkerson, violin
Kevin Gallagher, guitar
Mick Rossi, piano & percussion
Curtis Streetman, baritone
Miss Dirty Martini, burlesque dancer
Dirty Martini, burlesque dancer
"Dirty Martini performs an inspired Sally Rand style fan dance"
-Guy Trebay – Village Voice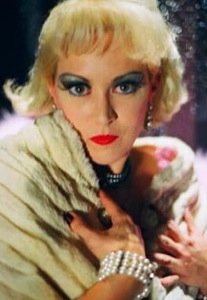 International burlesque sensation, Miss Dirty Martini, is one of the most recognized names in new burlesque. In 1997, she traveled to Sarajevo, to perform her show-stopping fan dance to a shell shocked public shortly after the peace accord was signed and the Serbian siege had ended. Since that time, she has declared herself the first fan dancer to perform in post-war Bosnia. In her native Manhattan, Miss Martini has delighted audiences with her Fan Dance, Balloon Striptease, Dance of the Several Veils, Shadow Strip and other classic burlesque revivals in such venues as The Slipper Room, Bombshell!, The Red Vixen Burlesque, The Supper Club, Joe's Pub, Spa, and infamous gay leather bar The Lure. She has performed for Tristan Taoramino's True Lust book release party and The Hoboken Historical Society's first annual Masked Ball. She is a featured performer at The VaVaVoom Room in its successful run at The Fez on Lafayette Street and she proudly performs every summer in Coney Island at "Burlesque by the Beach".
Miss Martini has performed at the out door, day long marathon of drag performance, Wigstock, in 1999 and 2000. In September 2001, she performed an astounding and exhausting five different numbers in the show, appearing as a Wigstock Dancer, with the girl group trio "The Fortunettes", and with Miss Shasta Cola's huge production number that was slated to end the evening's festivities.
In May 2001, Dirty Martini appeared at the first new burlesque convention, "Tease-o-rama", in New Orleans, and in June, won the Sally Rand Award for Fan Dance at Dixie Evans' burlesque museum in California. She has performed twice this year with The Velvet Hammer Burlesque at the historic El Ray Theater in Hollywood, CA and returned to the West Coast last September for Tease-o-rama in San Francisco, where she was the only new burlesque performer to receive two standing ovations in one night.
Dirty Martini has been photographed and interviewed for articles in Esquire, The NY Post, Backstage, Hustler, Bizarre, Max, Time Out NY and Bust Magazines. She has completed two interviews that will be shown on German television and she has been seen on The Metro Channel and Oxygen TV. In the near future, Miss Martini will appear in several independent films and book projects regarding the history of women in burlesque and its current revival in nightclubs and theaters across the nation.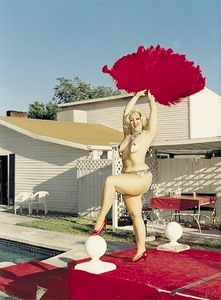 Donald Berman is a champion of new works by living composers, overlooked music by twentieth century masters, and recitals that link classical and modern repertoires. His recent CDs "The Unknown Ives volumes 1 & 2," and "The Uncovered Ruggles" on New World Records have been internationally acclaimed. He is the Artistic Director for the American Academy in Rome Concert series in New York and subsequent four-volume CD on Bridge Records. He has presented recitals, lectures, and masterclasses recently in Israel, Italy, and throughout the United States. He has performed to critical acclaim in New York City at Miller Theater, Zankel Hall, Merkin Hall, and Weill Hall at Carnegie Hall. Other recent work has ranged from Mozart concertos with the Columbus Symphony to American music retrospectives, to recitals linking Haydn and Schubert with new music, called "thrillingly clear" (NYTimes). He is a prizewinner of the 1991 Schubert International Competition and a member of the Dinosaur Annex New Music Ensemble since 1987. Berman has been presented by League/ISCM, Masters of Tomorrow in Germany, French Cultural Services (Fauré Sesquicentennial), and many others. He has premiered concertos, solo and ensemble works with many organizations including Collage, Real Art Ways, Pro Musica Symphony, and on his series Firstworks and Pioneers and Premieres.
Berman co-directs the New Music Ensemble at Tufts University. He studied with Leonard Shure, John Kirkpatrick, George Barth, and Mildred Victor.
Kevin R. Gallagher began playing rock guitar in his formative years but his musical appetite quickly led him to study jazz and ultimately, classical guitar. His renowned gift for the classical guitar won him numerous scholarships and awards while studying with Benjamin Verdery at the Wisconsin Conservatory of Music and at the Julliard School under the tutelage of Sharon Isbin.
As one of the world's leading classical guitarists, he was the first-prize winner in the 1993 Guitar Foundation of America, the 1994 American String Teachers Association, and the 1993 Artists International Competition. Most notably, Mr. Gallagher also earned the distinct honor of being the only American classical guitarist ever to win first prize in the prestigious Francisco Tárrega Guitar Competition in Spain (1997).
Following his studies at Julliard, Mr. Gallagher gave many classical guitar performances and masterclasses throughout the world, including those in Spain, Germany, Sweden, Greece, Turkey, Brazil, and England. He has recorded four classical guitar CDs. His recording for Naxos Records – Guitar_Recital_- Music from the Renaissance_and_Baroque was hailed as "…one of the very best NAXOS guitar recordings" by Classical Guitar Magazine (London) in 2000. www.guitar69.com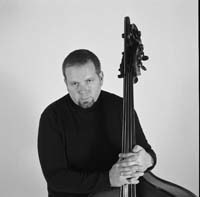 As one of the most in demand bassists in New York City, Jeff Carney's resume reads like a who's who of the world's elite recording artists. As an accompanist, Jeff could be heard alongside jazz greats Stan Getz, Art Farmer, Bobby McFerrin, and Freddie Hubbard and with pop icons such as Sting, James Taylor, Billy Joel, Elton John, Barbra Streisand, Blues Traveler, Portishead, and Aerosmith (on the soundtrack for Armageddon). He is currently principal bassist with the New York Pops Orchestra at Carnegie Hall, has worked with the New York Philharmonic(featured bassist),San Francisco Symphony, as well as numerous chamber music concerts and festivals.He could also be found in the Broadway production of Beauty and the Beast, and as a studio player on many jingles and film soundtracks including Secret Window,Stepford Wives and The Producers. Jeff also maintains an active clinic and workshop schedule around the world.
A proponent of new and classic, western and world percussion music, Frank Cassara has premiered many works with as many diverse groups. As percussionist for the Philip Glass Ensemble, he has performed around the globe, as well as recording Glass' music and film scores, most recently the new Glass/Reggio film "Naqoyquatsi". He also performs around the world with Steve Reich and Musicians, with an upcoming recording of his work "Dance Patterns". As a member of the New Music Consort/PULSE Percussion Ensemble he has appeared at major festivals as well as in the movie about John Cage "I Have Nothing To Say And I Am Saying It". Mr. Cassara has toured extensively with the Newband/Harry Patch Ensemble, performing and recording with Partch's instruments. He has also performed or toured with groups as Music From China, Manhattan Marimba Quartet, Talujon Percussion Quartet, North/South Consonance and Parnassus. Principal percussion of the Connecticut Grand Opera and member of the Riverside Symphony and Hudson Valley Philharmonic, he has also performed with many area orchestras such as the Brooklyn Philharmonic, American Composers Orchestra, Long Island Philharmonic, and the Westchester Philharmonic. Mr. Cassara has played for Broadway shows "Lion King", "42nd Street" and "Music Man" among others, and heads the percussion departments at Long Island University and Vassar College. He can be heard on recordings such as Philip Glass' "Hydrogen Jukebox", Gavin Bryars' "Jesus' Blood" (Grammy nominated), Chou Wen-Chung's "Echoes From The Gorge", and many others. (Photo-Peter Cook)
Violinist Mark Feldman is an active performer in the worlds of Jazz, Improvised Music and 20th Century Contemporary Music.
Mark Feldman Premiered the Violin Concerto of Guus Janssen as soloist with the Netherlands Radio Philharmonic Orchestra in the Contemporary Music Festival Nederland Muziek Dagen. He also premiered the Concerto for Violin and Jazz Orchestra with the WDR Big Band of Colonge, Germany. A european tour of that piece included a sold out concert in the Grosse Saal of the Vienna Concert House. In years past he has also been a soloist with the WDR Radio Orchestra and the Basil Symphonetta. In chamber music he has performed and recorded the complete string quartets of John Zorn (Tzadik Records) and his own works for string quartet Book of Tells (Enja Records). With the Trio "Abaton" he performs the works of composer Sylvie Courvoisier resulting in the CD Abaton on ECM Records.
He is currently a member of the John Abercrombie Quartet. In addition to international concert tours the resulting recordings "Open Land" "Cat n' Mouse" and "Class Trip" all on ECM records. Composer John Zorn has included him in many concert and recording projects over the past 10 years including Massada String Trio, Bar Kakhba, film scores, chamber music and performances of the Game Piece "Cobra".
In 2001 he perfomed in Duo with Painist Paul Bley in the Jazz at Lincoln Center Series. In 2004 he performed in the Trio of Painist-Composer Muhul Richard Abrams at Alice Tully Hall. With composer-performers Dave Douglas and Uri Caine, Mr. Feldman performed many European and U.S.concert tours playing on many of their recordigns on RCA, Winter and Winter and Black Saint Records. In 2004 he recieved a grammy certificate for his performance on Michel Brecker's Verve Album "Wide Angles". In past years he was also a member of groups lead by saxophonist Joe Lovano and drummer Billy Hart. These groups also recorded and concertized. He has also performed or recorded with Kenny Wheeler, John Taylor, Tim Berne, Lee Konitz, Bill Frisell, Richard Galliano, Michael Formanek, Bobby Previte, The Arcado String Trio, Louis Sclavis, Ray Anderson and Kenny Warner among others.
Mr. Feldman is found on over 150 jazz recordings as a soloist including his own releases "Music for Violin Alone" (Tzadik), "Music for Violin and Piano" (avant), "Book of Tells" (enja), "Masada Recital, Masada Aniversary Vol.4" (tzadik), "Masada String Trio, 50th Vol 1 " (tzadik).
As a composer he has been commissioned and performed by the Kronos Quartet and the WDR Radio Orchestra. For six Years violinist and composer Mark Feldman received the first place award for "Talent Deserving Wider Recognition" in Down Beat magazine's critics poll. In commercial music he has appeared as a studio musician with such groups as Cheryl Crow, The Manhattan Transfer, Diana Ross and Carol King among others.
Before moving to New York City in 1986, Mr. Feldman lived in Nashville Tennessee where he was a member of the ensembles that traveled and accompanied country western singers Loretta Lynn and Ray Price. In Nashville as a studio musician he appeared on over 200 Recordings including albums by Johnny Cash, Willie Nelson and George Jones, Jerry Lee Lewis and Television evangelist Jimmy Swaggart.
Internationally acclaimed violinist GREGORY FULKERSON has had a flourishing career in both classical and contemporary music. It was as a major exponent of American contemporary music that Mr. Fulkerson rose to prominence, taking the First Prize in the International American Music Competition sponsored by the Rockefeller Foundation and the Kennedy Center (now sponsored by Carnegie Hall). As a result of that victory, Mr. Fulkerson began a very active performing career which included debuts in New York, London, Paris, Rome, and Brussels. He has performed over 30 concerti with orchesrtra, including the World Premieres of the John Becker Concerto with the Chattanooga Symphony, the Richard Wernick Concerto with the Philadelphia Orchestra, and the Roy Harris Concerto with the North Carolina Symphony (later performing and recording it with The Louisville Orchestra). Among the conductors under whose baton Mr. Fulkerson has played are Riccardo Muti, Zdenek Macal, Geoffrey Simon, Bernard Rubenstein, Lawrence Leighton Smith, Gerhardt Zimmermann, Robert Spano, and Marin Alsop. He performed the title role in the 1992 revival of the Philip Glass opera, EINSTEIN ON THE BEACH, for a total of 48 performances on four continents, and later recorded the work for Nonesuch.
Gregory Fulkerson was born in Iowa City, Iowa. He studied at Oberlin College and at The Juilliard School, where his teachers included Paul Kling, David Cerone, Robert Mann, Ivan Galamian, and Dorothy DeLay. His debut recording (on New World Records) was chosen one of the year's best by The New York Times, and his recording of the complete Violin Sonatas of Charles Ives (on Bridge Records) has become the standard for that repertoire; other Bridge recordings include the complete Sonatas and Partitas for Solo Violin by J.S. Bach (chosen one of the Best CDs of 2000 by The New Yorker magazine) and the Stephen Jaffe Violin Concerto.
Praised for her "sparkle and humor, radiance and magnetism" and hailed for "a voice equally velvety up and down the registers", soprano is widely regarded as an artist of great versatility, with repertoire ranging from the Renaissance to the 21st century. She has collaborated with many of the leading figures in early music, including Andrew Lawrence King, Julianne Baird, Tempeste di Mare, The King's Noyse, Paul O'Dette, Chatham Baroque, Apollo's Fire, The New York Collegium, The Publick Musick, Brandywine Baroque, Trinity Consort, and Piffaro – The Renaissance Band, a group with whom she has toured the United States. Additionally, Ms. Heimes is a member of Fuma Sacra, the early music vocal ensemble-in-residence at Westminster Choir College of Rider University. She has been heard at the Boston, Connecticut and Indianapolis Early Music Festivals, at the Oregon and Philadelphia Bach Festivals under the baton of Helmuth Rilling, at the Carmel Bach Festival under Bruno Weil, and in Rio de Janeiro and Sao Paulo, Brazil in concerts of Bach and Handel. With the Philadelphia Orchestra she appeared as Mrs. Nordstrom in Stephen Sondheim's A Little Night Music. December 2003 marked her Carnegie Hall debut in Handel's Messiah with the Masterwork Chorus.
Highlights of the 2008-09 season will include a program of Bach with Voices of Music (Palo Alto, Berkeley, San Francisco, CA), Scarlatti's Su le sponde del Tebro and Seven Arias for Soprano and Trumpet (Wilmington, Lewes, DE), Mozart Requiem and the modern day premiere of Franz Xaver Richter's Missa Hyemalis with the St. Thomas Choir of Men and Boys and Sinfonia New York (NYC, NY), Handel Gloria and music from the London Pleasure Gardens with The Riverside Symphony (NYC, NY), Bach's B Minor Mass with the Choral Art Society of Philadelphia and with reconstruction at the Indianapolis Early Music Festival. With Pegasus Early Music (Rochester, NY) she will sing two programs; The Three Ladies and Dryden in Music; the latter in collaboration with the University of Rochester's Humanities Project. With the Dryden Ensemble (Princeton, NJ) she will sing the role of Daphe in Handel's Apollo and Daphne ; with Tempesta di Mare (Philadelphia, PA) the role of Galetea in Handel's Aci, Galatea e Polifemo; with Brandywine Baroque (Wilmington, DE) the role of Stratonica in Stadella's La forza dell'amor paterno and with Magnificat (Palm Desert, CA) the role of Despina in his Il Trespulo Tutore.
An advocate of contemporary music, she will sing the role of Irene Adler in the premiere of Thomas Whitman's new opera "A Scandal in Bohemia" with Orchestra 2001 (Swarthmore College and The Kimmel Center, Philadelphia, PA). With The Avian Ensemble (NYC, NY) she will participate in a program containing the works of Peter Flint, Conrad Cummings, Raymond Lustig and Corey Dargel.
Ms. Heimes' most recent recordings include Oh! the Sweet Delights of Love: the songs of Purcell with Brandywine Baroque; The Lass with the Delicate Air: English Songs from the London Pleasure Gardens; Handel Duets and Trios (December 2008 release); The Jane Austen Songbook with Julianne Baird; and Caldara's Il Giuoco del Quadriglio with Julianne Baird and the Queen's Chamber Band conducted by Stephen Altop.
A native of Rochester NY, she holds Master of Music degrees in Choral Conducting and Voice Performance from Temple University. Ms. Heimes has recorded for Dorian, Pro Gloria Musicae, Plectra Music, Sonabilis, and Albany records.
 Pianist, percussionist, composer, and conductor Mick Rossi is known for his work in the NY Downtown scene and beyond. A member of the Philip Glass ensemble as both pianist and percussionist, he has performed and recorded with Alex Acuña, Steven Bernstein, Roger Daltry, Dave Douglas, Mark Dresser, Billy Drewes, Peter Erskine, Eric Friedlander, Vinny Golia, Eddie Gomez, Hall and Oates, Gerry Hemingway, Russ Johnson, Andy Laster, Arif Mardin, Randy Newman, John O'Gallagher, David Sanborn, Michael Sarin, Carly Simon, Wadada Leo Smith, Andrew Sterman, John Valentino, and Cuong Vu, among others. Performances include the NY, Knitting Factory, Fringe, Singapore, and Montreux jazz festivals, WNYC's New Sounds, NPR's All Things Considered, The American Dance Festival, The Metropolitan Opera, MATA, Ravenna Festival, Nouvel Ensemble Moderne, American Ballet Theater, Lincoln Center, Les Nuits de Fourviere, Jay Leno, and David Letterman. Broadway credits include "The Who's Tommy," "Jekyll and Hyde," and "The Full Monty," among others. Recent films include "The Vagina Monologues" (HBO) and the recent hit "Standing In The Shadows Of Motown" (Artisan). New recordings include "They Have A Word For Everything" (Knitting Factory), "Nosferatu" (Dreambox), "Inside The Sphere" (Cadence), "New Math" (ToneScience), "Songs From The Broken Land" (OmniTone), and the brand new "One Block From Planet Earth" (OmniTone), his sixth solo recording. He is currently guest curator of the MATA Festival in Manhatten.www.mickrossi.com
Bass Curtis Streetman has earned praise for the power and beauty of his voice in repertoire that ranges from the Renaissance to the music of Benjamin Britten and Conrad Susa. His opera credentials include the major bass roles in Verdi's Rigoletto, Peri's Euridice, Mozart's Le Nozze di Figaro, Don Giovanni, and Die Zauberfloete, Stravinsky's The Rake's Progress, Britten's Billy Budd, as well as the bass leads in many Handel operas, in major houses.
In recent seasons, he has sung the role of Jesus, and the bass arias in Bach's St. John Passion with The New York Collegium conducted by Andrew Parrott; appeared in Handel's Ariodante with the Handel and Haydn Society, conducted by Christopher Hogwood; made his debut with the Tafelmusik Baroque Orchestra; and appeared at the Salzburg Festival in a premiere of Handel's Radamisto under Maestro Martin Haselboeck.
Mr. Streetman has performed Bach's Christmas Oratorio at Carnegie Hall and Monteverdi's Vespers at Lincoln Center's Avery Fisher Hall. He has recorded the latter work for Musical Heritage Society, as well as Castelnuovo-Tedesko's Romanciero Gitano, on the New World Classics label, music of Charpentier on the Naxos label, and Clarembault Cantatas for Dorian.
Highlights of the current season include the role of Colline in La Boheme, with the Pacific Opera Victoria, Canada; appearances with the Saint Paul Chamber Orchestra, in a program of recently discovered bass arias of C.P.E. Bach, and his directorial debut with the New York Collegium, in a program of English restoration music, honoring the diarist Samuel Pepys. At the invitation of the Salzburg Festival, he will make his solo debut at Dortmund's new Philharmonic Hall, Germany. He also returns to Carnegie Hall for Messiah performances with the Masterwork Chorus, and tours the United States with the instrumental Ensemble Rebel, performing music that influenced J.S.Bach.
Upcoming performances include debuts with the San Diego Symphony, Switzerland's Solothurn Festival, Spain's Salamanca Festival, as well as Montreal's Les Violons du Roi, under the direction of Bernard Labadie, and return engagement with the St. Paul Chamber Orchestra directed by Nicholas McGegan. Mr. Streetman returns to Europe to perform with the Salzburg Festival on tour, in performances of Handel's Radamisto.
Mr. Streetman began his musical training at an early age at the Choir School of St. Thomas Church, in New York City, where he worked with the famed improvasiteur, Dr. Gerre Hancock. His career has brought him full circle, as he was recently appointed vocal instructor at the Choir School.
Described by the NY Times as "outstanding" and "an elegant baritone with a commanding sound" Chris Pedro Trakas is celebrated for the intense, passionate vocalism he brings to an eclectic repertoire ranging from Mozart, Schubert, Rossini, Mahler and Debussy through Britten, Bernstein, Bolcom, Adams and Ellington. Career highlights include "Harlekin" in Ariadne auf Naxos at the Metropolitan Opera (Levine), Ravel's L'enfant et les sortilèges with the Boston Symphony Orchestra (Ozawa) and the title role in Mozart's Don Giovanni with the St. Louis Symphony (Vonk). He received critical acclaim for his "Count" opposite Renee Fleming in Menotti's celebrated production of Mozart's Le Nozze di Figaro at the Spoleto Festivals in America and Italy. Other noted performances include 'Alberich' in Wagner's Rheingold with Jonathan Sheffer's Eos Orchestra, Figaro in the St. Ann's Warehouse puppet production of The Barber of Seville and 'Dandini' (La Cenerentola) at the Kennedy Center. European engagements include "Pelléas" at the Theater Basel in Switzerland as well as concert appearances in Handel's Giulio Cesare in London and Schumann's Szenen aus Goethe's Faust with Sylvain Cambreling in Frankfurt. His interest and experience with contemporary opera include two world premieres by Stewart Wallace: Hopper's Wife, directed by Christopher Alden and Yiddisher Teddy Bears at the Sundance Theatre Lab, working with the stage director/librettist Richard Foreman. He earned his Actor's Equity card playing 'Amiens' in Shakespeare's As You Like It at San Diego's Old Globe Theatre.
A distinguished recitalist, he has collaborated with many important pianists including James Levine (Dichterliebe, Histoires Naturelles, Don Quichotte à Dulcinée – Ravinia Festival), Françoise René Duchable (Winterreise – Newport) and David Del Tredici at the world premiere's of the composer/pianist's Three Songs (recorded by CRI) and Love Addiction (to be recorded by Koch Classics). On Lincoln Center's Great Performers series he shared recitals with Lorraine Hunt Lieberson, Amy Burton and pianists Glenn Parker, John Musto and Steven Blier. A winner of the Naumburg Award (sharing first prize with Dawn Upshaw) and the Young Concert Artists International Competition, Mr. Trakas made auspicious New York debuts at Alice Tully Hall and the 92nd Street Y. He gave the first complete performance of Schubert's Winterreise in Malta with pianist. Recordings include Hyperion's Complete Songs of Ernest Chausson with Felicity Lott, Ann Murray and Graham Johnson, chosen by The Guardian as "Classical CD of the Week."
Mr. Trakas has also performed with the Chicago Symphony Orchestra, National Symphony, Philadelphia Orchestra, Detroit Symphony, Israel Philharmonic, and Danish National Radio Orchestra. He sang the world premiere of Gian Carlo Menotti's O Llama de Amor Viva with Rafael Frühbeck de Burgos and the Spoleto FestivalOrchestra (Concerto in Piazza). In recent seasons, he has appeared in concert with the Arc Ensemble in Toronto, Peter Flint's innovative Avian Music and the Fireworks Ensemble in New York, at the Kennedy Center with Angel Gil Ordoñez's Post-Classical Ensemble and in Schubert's Winterreise at Brooklyn's Bargemusic.
Formerly on the faculties of the North Carolina School of the Arts and Stony Brook University, Mr. Trakas has also guest instructed at the Juilliard School. He holds B.A. and M.M. degrees in music history, organ and voice from Eckerd College and the University of Houston. He has homes in New York City and St. Petersburg Florida.