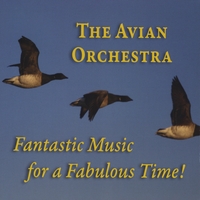 Rock-and-roll inspired chamber music by Michael Gandolfi, Jonathan Newman, Conrad Cummings, David Laganella, Richard Belcastro, and Peter Flint.
Listen to preview tracks: Cable Ready: 1. Power Chords, I Wish They All Could Be, The Vinyl Six, and Fantastic Music for a Fabulous Time,.
Rock and roll music has been a part of American society for close to fifty years now, and for many of those years, the "serious" music world carefully ignored the popular music world. This started to change in the 1970's and now we have had a good thirty years of the revival of popular music's influence. No one thinks twice anymore about electric guitars in chamber music. With the shock value of rock instruments in the classical medium fading, it seems time to take some stock of what is really going on with the music. The first generation of composers who grew up listening to and playing in rock bands are now in their prime as artists. A younger generation of composers are also launching careers, having had a childhood saturated with pop music. These composers are all writing new music that rocks hard in completely different ways. We present a sampling of some of that music here.