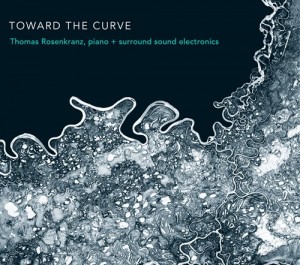 A fantastic new recording of my piece, ElectroSonata:Spontaneous Combustion, has just been put out on the Oberlin Music record label as part of the Towards The Curve cd, bluray, and digital download release. The incomparable Thomas Rosenkranz plays the heck out of it in an absolutely pristine sounding surround and stereo recording. If you buy the CD, you get both it both formats, a great deal.
In addition to my music, there are fabulous pieces for piano and electronics by Tom Lopez, Peter Swendsen, Aurie Hsu, Michael Klingbell, Pierre Jalbert, and Alex Christie; all tied together by lovely improvised piano interludes by Tom Rosenkranz himself. It's really one of the best compilation records I've ever heard, and it really hangs together as one artistic statement. Check it out!
You can find it on Naxos Direct here or on Amazon here.