Peter Flint lives in New York City where he is an active composer and accordionist, writing and performing both as a soloist and with various ensembles, including the Bachtopus Accordion Ensemble and La Familia Reggae Son.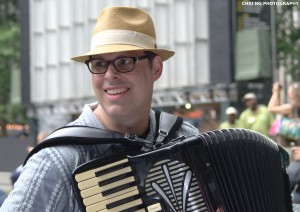 For the past several years, he has moved his artistic endeavors in new directions, studying both Afro-Cuban rhythms, and Brazilian music with accordionist/pianist Vitor Goncalves and drummer Vanderlei Pereira; and endeavoring to integrate these musical traditions into his own creativity.
He was born in Delaware to a musical family. His mother is a Baroque harpsichordist and founder of Brandywine Baroque and Plectra Records and his grandmother was a community pianist and organist. He grew up studying piano and clarinet and received a B.A./B.Mus. in History and Electronic Music from Oberlin College and Conservatory of Music where he studied with Conrad Cummings, and his M.Mus. from New England Conservatory where he studied with Michael Gandolfi, Lee Hyla, and Scott Wheeler.
In 2010, he took up the accordion, studying first with Walter Kühr at Main Squeeze Accordions on the Lower East Side; then with William Schimmel and later with Brazilian forro specialist Rob Curto. He has had numerous collaborations, including with California electric guitarist/drummer Ben Kaplan, and with the accordion group, Bachtopus, which plays classical and contemporary repertoire.
He is the chair of the board of directors at the Third Street Music School Settlement, the oldest community music school in the country, and is honored to help lead the school at an exciting time as it celebrates its 125th anniversary.
Recent compositions include High Summer: Brood V and Late Summer: Brood VI inspired by the cyclical appearances of the cicada broods; We Speak Too Much of Danger, for violin and piano, Halfway, for accordion quartet, Paganini's In There Somewhere and The Waning Days of Raphus Cucullatus for solo accordion; ElectroSonata:Spontaneous Combustion for piano and electronics (recorded and released by the Oberlin Music record label); and Sheetflow Songs, a song cycle without words co-written with guitarist Ben Kaplan. Peter's music has been performed in the US, Cuba, India, and South Korea by groups such as the Camarata Romeu in Havana, The Avian Orchestra, American Opera Projects, the Hudson Quartet, the Orchestra of the SEM Ensemble, Dinosaur Annex, Brandywine Baroque, and the Auros Group for New Music, among others.
His recordings are available via the Bandcamp website.
In 2002, he founded a mixed chamber ensemble, The Avian Orchestra, to showcase American composers in a series of themed concerts and recordings. The group, currently on hiatus, performed regularly for ten years, building bridges between audiences, performers, and various musical styles and media. They released numerous recordings of music commissioned for the group as well as other previously unrecorded works. Their debut performance, Birds of a Feather, presented a wide variety of music inspired by birds and was favorable reviewed in the New York Times, which described it as "beautifully and sensitively played."
In the past he has written music for numerous theatrical productions in New York City and the region at such venues as the Juilliard School Drama Division, the Delaware and Philadelphia Theatre Companies, the 78th Street Theater Lab, and the Jean Cocteau Repertory Theater. In addition he worked with Hyperspace Cowgirls, a now-defunct multimedia company, creating music and soundscapes for software for children.
When not otherwise busy with his music and his family, he plays soccer, tinkers with vintage bicycles and accordions, and sails small boats.