"Dirty Martini performs an inspired Sally Rand style fan dance"
-Guy Trebay – Village Voice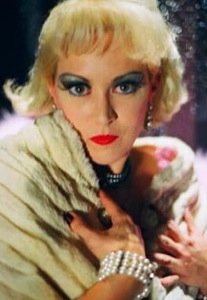 International burlesque sensation, Miss Dirty Martini, is one of the most recognized names in new burlesque. In 1997, she traveled to Sarajevo, to perform her show-stopping fan dance to a shell shocked public shortly after the peace accord was signed and the Serbian siege had ended. Since that time, she has declared herself the first fan dancer to perform in post-war Bosnia. In her native Manhattan, Miss Martini has delighted audiences with her Fan Dance, Balloon Striptease, Dance of the Several Veils, Shadow Strip and other classic burlesque revivals in such venues as The Slipper Room, Bombshell!, The Red Vixen Burlesque, The Supper Club, Joe's Pub, Spa, and infamous gay leather bar The Lure. She has performed for Tristan Taoramino's True Lust book release party and The Hoboken Historical Society's first annual Masked Ball. She is a featured performer at The VaVaVoom Room in its successful run at The Fez on Lafayette Street and she proudly performs every summer in Coney Island at "Burlesque by the Beach".
Miss Martini has performed at the out door, day long marathon of drag performance, Wigstock, in 1999 and 2000. In September 2001, she performed an astounding and exhausting five different numbers in the show, appearing as a Wigstock Dancer, with the girl group trio "The Fortunettes", and with Miss Shasta Cola's huge production number that was slated to end the evening's festivities.
In May 2001, Dirty Martini appeared at the first new burlesque convention, "Tease-o-rama", in New Orleans, and in June, won the Sally Rand Award for Fan Dance at Dixie Evans' burlesque museum in California. She has performed twice this year with The Velvet Hammer Burlesque at the historic El Ray Theater in Hollywood, CA and returned to the West Coast last September for Tease-o-rama in San Francisco, where she was the only new burlesque performer to receive two standing ovations in one night.
Dirty Martini has been photographed and interviewed for articles in Esquire, The NY Post, Backstage, Hustler, Bizarre, Max, Time Out NY and Bust Magazines. She has completed two interviews that will be shown on German television and she has been seen on The Metro Channel and Oxygen TV. In the near future, Miss Martini will appear in several independent films and book projects regarding the history of women in burlesque and its current revival in nightclubs and theaters across the nation.